Studies suggest that vaporizing cannabis concentrates for inhalation to treat pain may be the best method of administration for relief. This article covers the science behind those claims and clears the smoke and stigma around the therapeutic benefits of dabbing.
There's no doubt that North American's are in pain, but research suggests that dabbing cannabis concentrates could help. According to the latest figures, at least 1 in 10 people in the U.S. alone has experienced pain every day for three months or more.1
Many of us just think that pain is a part of everyday life and chomp down over the counter painkillers to keep us able to work and move. If the problem gets too bad, which it usually does, we move on to prescription opioids and the likes.
Unfortunately, over-the-counter non-steroidal anti-inflammatories, or NSAIDs, and prescription pain pills are literally causing an epidemic of addiction, opioid deaths, destroying our health. We'll get more into that later. First, let's talk a little about pain and chronic pain and get some perspective on what we're dealing with.
We all know what pain is and have felt it before. If you've ever been physically injured, you've most likely felt the acute pain that comes along with redness, swelling, inflammation, sensitivity, and heat. Acute pain is one thing, but the serious pill-related problem I mentioned before stems mostly from chronic pain, although opioid addiction often begins by treating the pain of acute injury with prescription painkillers.
About Chronic Pain & U.S. Pain Data
The Mayo Clinic approximated that 80% of all Americans will experience back pain at least once in their life. The most common types of chronic pain in the U.S. include in respective order3 –
Lower back pain
Headaches & migraines
Neck pain
Facial pain
Chronic pain is the number one cause of disability in the United States and studies show that NSAIDs and Opioids actually don't treat chronic pain very well, especially in the long term.2
"Currently available treatments, generally opioids and anti-inflammatory drugs, are not always effective for certain painful conditions"
– J. Manzanares, Curr. Neuropharmacol. 2006
The latest statistics on chronic pain in the U.S. show that
100 million people in the U.S. suffer from chronic pain
5 billion people worldwide suffer from chronic pain
Women are 2x as likely as men to suffer from severe headaches, migraines, and facial pain
Surveys of people with chronic pain reveal an even deeper suffering,
77% of people report feeling depressed due to their chronic pain
51% of chronic pain sufferers feel they have little or no control over their pain
1 in 5 U.S. adults reported that pain disrupts their sleep at least a few nights a week
Data also shows us that only a small fraction of chronic pain sufferers actually seek help from a pain specialist. A quarter of pain patients seek relief at the chiropractor, forty percent of which say that, along with massage therapy, it has worked very well for their pain.
Around 63% of chronic patients go to a general doctor, who is most likely to prescribe them opioid painkillers or suggest NSAIDs. Surveys show us though that only about 23% of chronic pain patients find opioids effective. This includes drugs such as –
Oxycodone
Oxymorphone
Codeine
Hydromorphone
Morphine
Methadone
Hydrocodone
Fentanyl
It's estimated that 60 people die every day in the US due to prescription opioid-related problems4. According to the CDC's latest reports, in the last 16 years, more than 183,000 people in the U.S. have died from overdoses related to prescription opioids.5
Almost 2 million people and rising in the U.S. have abused or suffered addiction to prescription opioids annually since 2014
According to the American Society of Addiction and Medicine, Subsequently, over half a million more had a disorder with heroin involved.6
1 in 4 people prescribed opioids for non-cancer pain struggles with their dependency on the drugs.
There have been more than 15,000 deaths in 2015 alone from overdoses involving prescription opioids.
NSAIDs & The Dangers of Over-The-Counter Pain Pills
Clearly, we have a huge chronic pain problem and it doesn't seem like traditional pharmaceuticals have been able to provide much relief at all. In fact, it would seem the contrary is true. While many people are now waking up to the dangers of opioid painkillers, many still eat NSAIDs such as Advil, Aleve, or Tylenol like candy.
These types of drugs are essentially little hand grenades in our guts that destroy much of our beneficial biome in the gut, allowing for bad bacteria to thrive. Thus, resulting in a slew of terrible chronic illnesses alleged "autoimmune diseases", toxicity, and you guessed it tolerance – dependence – and addiction.
Consuming NSAIDs increases the risk of heart failure by 19%, and the risk increases proportionately rising with the amount taken7. Byron Cryer, MD, and spokesperson for the American Gastroenterological Association is quoted saying NSAIDs are responsible for more than half of all bleeding ulcers.8
NSAIDs have a negative effect on kidney health, increasing one's risk of renal failure. They are also associated with Reye's syndrome – a rare disorder in causing liver and brain damage in children and teens. 9
We're not doctors here at Dabdayz by any means, but research suggests that you should put down the NSAIDs immediately and switch to safer alternatives.
What Causes Chronic Pain
Pain comes from messages sent through the peripheral and central nervous system to processing centers in the brain. Sometimes, chronic pain begins without an obvious cause, but in most cases, it is due to an injury or health condition.
Leading causes of chronic pain include:
Past injuries or surgeries
Skeletal
Muscular issues
Arthritis
Nerve damage
Infections
Fibromyalgia
Chronic low-grade inflammation
Muscle tension and contracture
Vitamin D deficiency
Pathological sensitization
Injury
Sensitization
Muscle Knots
Often the source of chronic pain takes a while to identify. It could be something insignificant that you do every day causing that pinching feeling in your hips, spine, or neck. Sometimes the best remedy for chronic pain is a little frequent exercise and changes in diet and lifestyle.
The most prevalent quality of pain is that it compels to be explained. There are many reasons for experiencing pain chronically.
Many people's chronic pain is attributable to health conditions such as arthritis, multiple sclerosis, or fibromyalgia. Patients afflicted with these diseases experience a form of chronic pain referred to as neuropathic pain.
About Neuropathic Pain
Neuropathic pain refers to the pain experienced from nerve damage of inflammation. Perhaps you know someone who experiences frequent headaches or migraines.
These are just two examples of neuropathies, but there are other conditions that can cause nerve damage and neuropathic pain such as,
Injury
Physical trauma
Infections
Diabetes
Cancer
Genetic disorders
Alcoholism
Toxins and poisons
Drugs and medications
How Cannabis Concentrates, Dabs, & Vapes Can Help With Chronic Pain
Now that we know more about our pain problem, how chronic pain happens, and the dangers of modern pharmaceuticals such as NSAIDs and Opioid-based painkillers, let's move on to how dabs can help for pain. Seriously! They can! And you don't have to get high, if you don't want to, keep reading to find out what I mean.
One study on patients with post-traumatic or postsurgical neuropathic pain concluded that a single inhalation of 25mg of 9.4% THC cannabis three times daily for five days reduced the intensity of pain, improved sleep, and was well tolerated.10
The study hosted 23 participants, 12 women and 11 men around the age of 40, and studied them for 2 weeks. The patients found great relief from smoking dried cannabis flowers, but dabbing cannabis concentrates doesn't involve smoking at all. Dabbing involves vaporizing concentrates extracted from the cannabis plant.
Later we'll get into the science behind why dabbing concentrates is superior to smoking cannabis for treating chronic pain. For now, let's take a look at a couple more scientific studies on cannabis compounds being used to manage severe chronic pain to understand how dabbing could really help.
Dabs May Improve The Quality of Life for People Living With Chronic Pain
One study published in The Journal of Pain surveyed 244 chronic pain patients and found that medical marijuana had a significant impact on their lives11. The study presents data suggesting that cannabis –
Increased the quality of life
Decreased side effects from other medications
Reduced the use of opioids on average by 64%.
Further longitudinal studies should confirm that cannabis compounds might be beneficial for many chronic pain patients.
Harvard Researchers Conclude Cannabis Concentrates Kills Chronic Pain
Researchers at Harvard University conducted a systematic review of 28 studies examining the efficacy of exocannabinoids (cannabinoids produced by other means than the endocannabinoid system) in treating a variety of pain and medical issues.12
The studies showed that cannabis, and synthetic cannabinoids, significantly improved symptoms of chronic and neuropathic pain. However, I don't think anyone would recommend using synthetic cannabinoids when you have the natural botanical compounds available.
Studies Show Cannabis Extract Provides Relief in Arthritis & Multiple Sclerosis
Dr. Sheng-Ming Dai of China's Second Military Medical University found that cannabinoid 2 receptors are concentrated in high levels in the joint tissue of people with arthritis.13
Cannabinoid receptors are the specialized receptors found on the outside of cells, such as in the joint tissue of arthritics, that combine with cannabinoid compounds like a lock and key activating the endocannabinoid system.
While cannabinoids synthesized in humans and in plants can act directly or indirectly other receptors in the body, CB1 and CB2 are considered to be the main two-endocannabinoid receptors.
Manzanares Uses Cannabis To Put Multiple Sclerosis Into Remission
I quoted one Dr. Manzanares at the beginning of this article on chronic pain and dabbing cannabis and here he deserves further recognition. Manzanares studied how cannabis compounds affect chronic pain patients with multiple sclerosis.
In one study, smoking cannabis not only helped stopped spasms from multiple sclerosis but also halted the progression of the disease into remission14. Dr. Manzanares goes on to cite studies showing that cannabis may be superior to opioids in alleviating intractable pathologic pain problems such as the mysterious disease that is MS.
Other studies confirm these results in chronic pain patients. In fact, a specific compound sourced from cannabis called, CBD, is working in many patients with treatment-resistant conditions such as migraines, fibromyalgia, or IBS.15
What is CBD?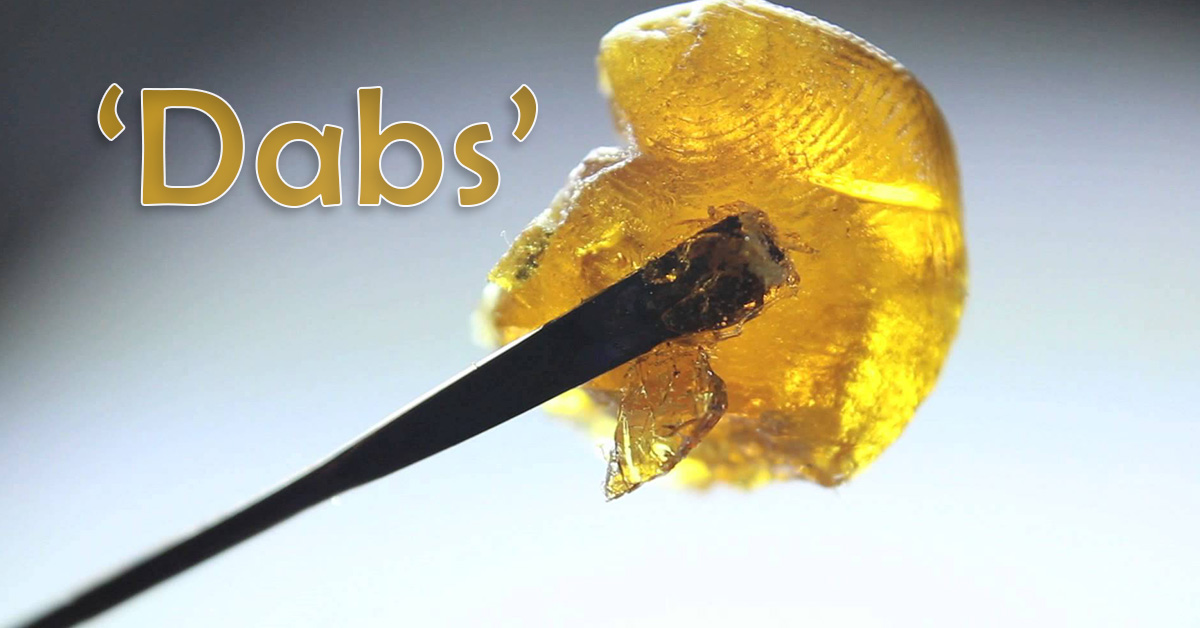 Now, many are turning to a potentially safer alternative in pain treatment. It's CBD or Cannabidiol, and it's quickly rising in fame as an effective replacement for traditional pain-relievers.
CBD is a cannabinoid compound extracted mainly from cannabis, but it is also found in other plants such as hops. It can be taken in many methods of administration such as,
Sublingual Drops
Gel-capsule
Ingestion
Topicals
Smoking or Vaporizing
Dabbing CBD For Chronic Pain Relief
Although CBD is available in many methods of administration, inhalation is the best way to take cannabis for treating chronic and neuropathic pain. According to the body of scientific evidence available and a multitude of anecdotal reports from patients, inhalation provides –
The fastest relief of chronic pain symptoms
The most efficient means of reducing chronic pain
Most effective method for treating neuropathic and chronic pain
Smoking is one way to inhale cannabis compounds, sure. But it involves inhaling harsh plant material that can irritate respiration. Many chronic pain patients aren't well enough to smoke cannabis efficiently.
This is where dabbing enters. Dabbing provides means of inhaling concentrated cannabis vapors. No smoke involved! Cannabis concentrates are extracted from the cannabis plant using a variety of methods. There are many types of concentrates available on the market. Enough to make your head spin!
But you don't have time to figure out what's what in the world of concentrates, especially if suffering from a chronic condition causing severe chronic pain. Not to worry, Dabdayz has you covered. We have an entire library of information available at your fingertips, answering all your dab and cannabis concentrate questions such as,
Cannabidiol is one of the two main cannabinoids found in cannabis, which has been used to as a pain-reliever, or analgesic, for thousands of years. Unlike THC from cannabis, CBD has no psychoactive effects. Just a few of its medicinal applications include:
Anti-inflammation
Pain relief
Anti-anxiety
Anti-depressant
Anti-tumor
Anti-oxidative (neuro-protectant)
CBD reduces nociceptive pain messages to the brain by activating specific receptors that support the body's natural pain response mechanisms16. Countless studies confirm that it also reduces inflammation, which causes pain.
By inhibiting the production of biochemicals that signal the immune system's inflammatory response, CBD may be able to reduce low-grade inflammation causing chronic pain in millions suffering from lower back pain and many more conditions listed earlier in this article.
While traditional pharmaceuticals such as NSAIDs and Opioids don't work so well in reducing chronic pain, CBD has been shown to work exceptionally well.17
Conclusion
There are incredible options available in the concentrate world for people seeking a safer and more effective alternative treatment for chronic pain. Make sure you find out more about CBD, Delta-9 & Delta-8 THC, and other dab-related knowledge in our other articles linked below.
Thanks for reading! If you've found this information helpful then please share it with others who may also enjoy it! Stay tuned to Dabdayz for your daily dose.
Sources: